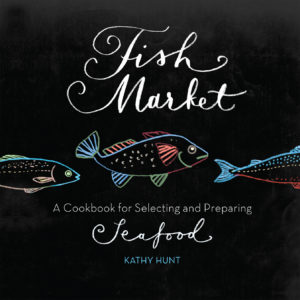 I'm delighted to announce the release of my first cookbook, Fish Market (Running Press, 2013).  Featuring over 130 creative yet manageable recipes, Fish Market serves up everything that readers need to know about choosing, storing and cooking healthful fish and shellfish. Sharing flavor affinities, food pairings and a bit of history for each dish, Fish Market takes the mystery out of selecting and enjoying seafood. Add this to your cookbook collection and you'll enter the kitchen with confidence, ready to tackle a boatload of fish and shellfish.
My initial interest in seafood stemmed from medical concerns and the resultant culinary disasters that they introduced. When I was fourteen, my father had a massive heart attack at a high school football game. After recovering from this near-fatal event, he radically altered his—and our family's—eating habits. Gone were the cholesterol- and fat-laden prime rib, rib eye steak, and roast beef dinners. Instead, we ate heart-healthy meals of broiled flounder, baked haddock, and the occasional salmon cake.
Unfortunately, my mother, the self-appointed cook of our household, had little enthusiasm for the kitchen. As a result, she made our seafood suppers about as seasoned and succulent as sandpaper. Rather than being turned off completely by fish, I decided to look for a better way to cook it. Inspired by and armed with copies of Irma Rombauer's The Joy of Cooking and Jane Grigson's Fish Book, I began a war against dry, dull seafood.
Fish Market represents a lifetime of personal and professional experiences cooking fish and shellfish. Whatever recipe you try is a dish that I've made and eaten many times. Needless to say, I hope that you will enjoy cooking from Fish Market as much as I do!
Available worldwide as both a paperback and ebook, you can purchase Fish Market in stores and online at the following locations: